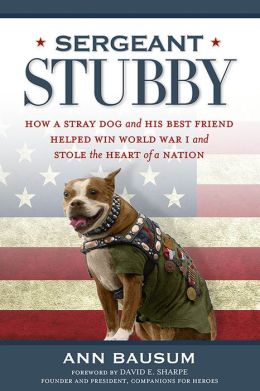 Why I Read It:
Advanced copy from Amazon.com Vine program.
Summary:
"How a Stray Dog and His Best Friend Helped Win World War I and Stole the Heart of a Nation" (also the subtitle).
My Thoughts:
You may say to yourself, "Seriously? A dog helped win the war?"
Then, step back. OK, bigger picture - every action by an allied soldier (well, most, anyways) - helped win the war. Then you say, "But you said
soldier
." Correct. But trust me when I say Stubby played his part.
He meandered into the Yankee Division in New Haven, Connecticut, and found his way overseas with doughboy Robert Conroy, and at least experienced what the average American soldier did in World War I. He was present at many major battles, and even has been credited with capturing a German soldier. War hero? Maybe not. But symbol of all that was good about that average World War I doughboy? I'd say so.
Whether or not he deserved the attention and fame, he got it, and he was beloved by many who called upon his owner to be sure he was at the head of many veterans parades in the years after the war. He was vilified, too, by folks who felt the spotlight shining on him should have been cast elsewhere, toward the young men who lost arms and legs and minds on the battlefields of France.
Due to the relative scarcity of information about his life, the author provides contextual background for Stubby's story. She sets all the scenes and extrapolates what Stubby might have done. This is not a work of fiction, but carefully phrased facts.
Perhaps the most fascinating tale of all is how Stubby got to his ultimate destination. He's on display at the Smithsonian Institution. He didn't get there immediately, but he's there now. There's a whole psychological study to be done regarding Stubby and Conroy, why Conroy held onto what he did as far as Stubby's materials go after finally donating him to the institution, whether or not his relationship with the dog affected his relationships with women, or his ability to hold a job. Then, too, there is the question of why Conroy would hang his medals on his dog's back and claim they belonged to the canine, as it seems he did.
It's an interesting sidelight of history, not about two of the major players of World War I, but certainly about two of the players without whom the full story of the war cannot be told.